Eating My Way Through Fayetteville, Arkansas
A couple weeks ago, my dad and I ventured to Fayetteville, Arkansas for a long weekend. While our primary goal there was to do some college touring, our trip was pretty much defined by the restaurants and coffee shops that we checked out. To my surprise, Fayetteville had some awesome food spots with many restaurants providing lots of options for vegetarians and vegans. Whether this post gives you some suggestions for an upcoming trip to Fayetteville or just provides you with some pictures of delicious food and drinks, I hope that you enjoy!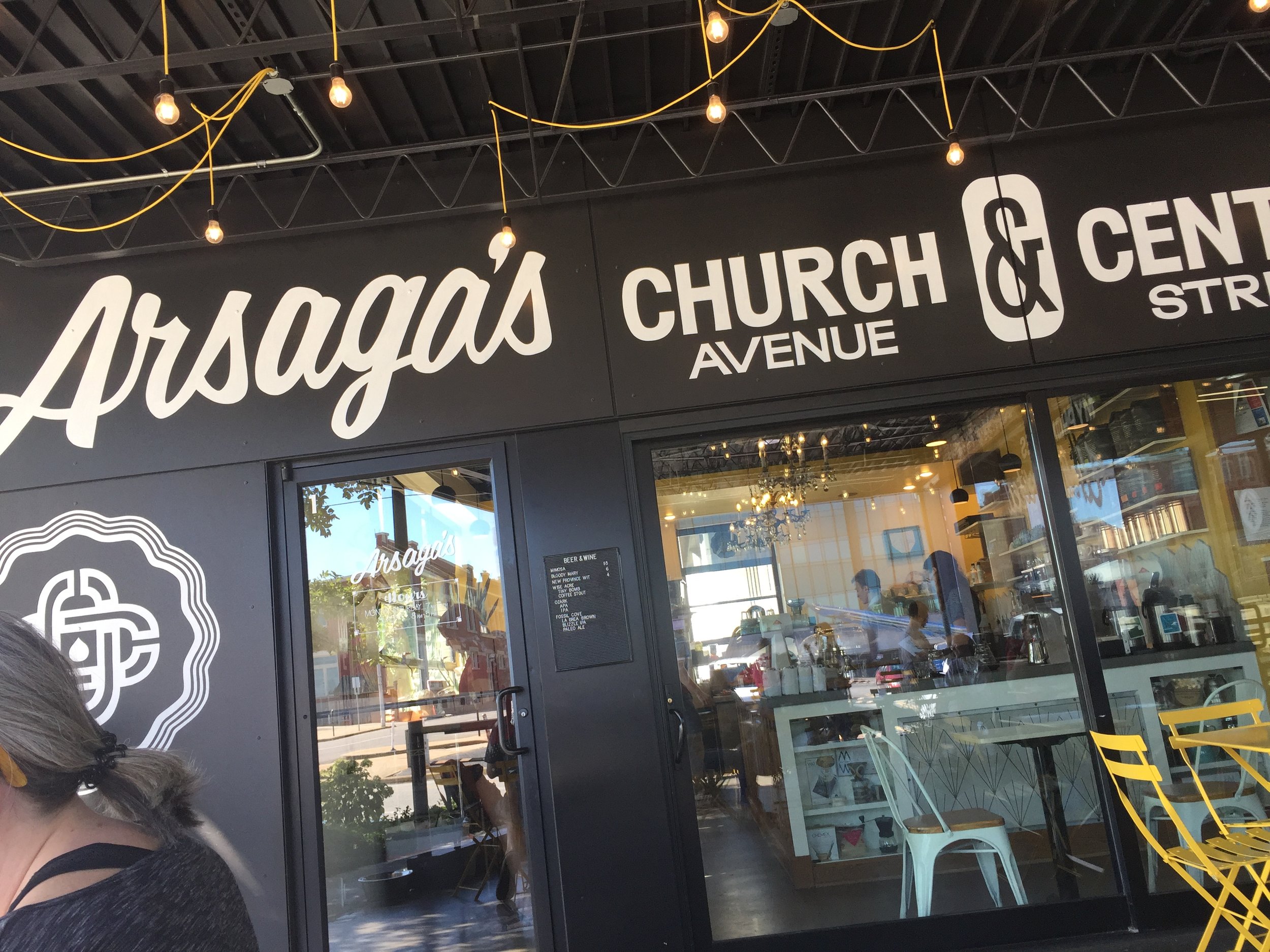 Arsaga's
Arsaga's is home to some of the tastiest toasts I've ever had and some of the best coffee and espresso options in Fayetteville. It was recommended to me by a friend and I am so glad because it soon became my favorite place that we tried. There are a couple of locations within Fayetteville, but I would recommend the Church and Center location if you're wanting to just grab a quick, chill breakfast. The other location is more sit-down style with a bigger menu, but can sometimes have a pretty long wait, especially on weekends. The Church and Center location has a full page of the insanely creative and delicious toasts as well as an awesome coffee menu. The first pictured is the "Homeowner" toast and is complete with avocado, pickled beet relish, sunflower seeds, lemon zest, and parsley. It definitely was an upgrade to the traditional avocado toast! We also got another toast called the "Globetrotter" with red pepper and white bean spread, a white bean salad, arugula, and pickled onion on top. Both toasts were unbelievably Instagram-worthy, tasty, and inventive - would definitely recommend this place to anyone going to Fayetteville.
Greenhouse Grille
This spot is truly a hidden gem in Fayetteville! All of the ingredients in the foods are locally sourced, there are plenty of vegetarian options on the menu, and the atmosphere is very cozy and relaxed. Yes, some items were more on the expensive side, but the portions were large and the ingredients were very fresh. My dad and I shared the hummus plate complete with falafel, tapenade, feta, and tzatziki. For the main meal, we both went for the fish tacos. Although the fried cod made them not incredibly healthy, they were so fresh and flavorful that it was totally worth it. This spot also has a lot of other really delicious looking salad and veggie options that I will definitely be trying on my next trip here. And if that isn't enough, they have locally-made kombucha as a regular menu item.
Puritan
This place had such a cool atmosphere and was definitely a favorite study spot among the University of Arkansas students. For being a place that specializes in coffee and beer, they had a pretty solid selection of smoothies all made with fresh fruit. This place's cool patio and loft areas looked like the perfect spots to both hang out with friends and get some work done.
Onyx Coffee Lab (Bentonville, AR)
Although there is a Fayetteville location of this coffee shop, we decided to check out the Bentonville one after exploring the town square for a bit. Its location is ideal - right in the center of all the shops in Bentonville Square. Even for being 40 minutes away from the University of Arkansas campus, this place was full of college students studying due to its quiet and comfortable atmosphere. The coffee was delicious, especially the Onyx latte, and the mugs that they served it in were beautiful. The drink menu here also included several unique, non-coffee options like the Matcha Lassi made with matcha, cardamom, vanilla, pistachio, and yogurt (picured above!) Onyx also offers some light food options like toasts and pastries to go along with these creative drinks. If you're wanting to taste the Onyx coffee without getting it all the way from Bentonville, a new coffee shop in Memphis called The Hub is now brewing it!
Hugo's
A super cool dive in Fayetteville located under the town square. Yes, it may be hard to find something vegan or vegetarian here, but it is a very popular local spot that is right in the heart of Fayetteville. I really loved their taco special and they also had lots of sandwiches and burger options. Not the healthiest spot, but a lunchtime favorite nonetheless!
There are definitely so many cool places that we didn't have a chance to get to in our short time, but I encourage you to check some of these out if you ever find yourself in Fayetteville, AR!