My Guide to Memphis
Memphis is a booming and vibrant city. Yes, some know it solely for Elvis and BBQ, but it is so so much more than these surface level trademarks. As a high schooler, I found a sense of home in the food scene here - in both working at and frequenting local restaurants - that really incited my passion for food made with creativity and purpose. I dare to say that without the comfort I felt within this realm of my city, I would have never had the confidence to start this blog in the first place. Honestly, I'm a little embarrassed to have let this blogging thing go on so long without giving you guys a glimpse into some local places that have cultivated my love for food and the city as a whole. Whether you are from out of town and are looking for some recommendations or you are a Memphis local simply wanting to experience a few new spots, I hope this list is able to give you some guidance!
901 Eats
Breakfast
Cafe Eclectic: If you know me, you know that this place is up there on my list of favorites. The atmosphere (at all locations) is comfortable and the menu (primarily at the McLean location) is extensive with lots of vegan and veggie options. My favorite dishes are the Avalon scramble and the Rachel's breakfast wrap (both of which I sub out the meat with veggie sausage), as well as the funky salmon and the black bean wrap. The granola and milk and the vegan pancakes are delicious as well. To drink, I love their matcha latte and London fog. Although it can be rather crowded on Saturdays and Sundays, the staff is always really on the ball. Great place to catch up with friends!

The Juice Bar: This place is a little on the pricier side but is such a fun treat. The atmosphere is super chill and the smoothie bowls are delicious. I would definitely recommend getting either the Aloha bowl, the Coffee Janet smoothie, or the juice and overnight oats combo deal.

The Liquor Store: Although I just tried this spot, I already love it. Delicious veggie sausage and a lively atmosphere.

Inspire Community Cafe: One of the best new spots with an amazing mission. Plus it is affordable! Definitely try the veggie chili.

Edge Alley: While on the pricier side, Edge Alley it is a beautiful breakfast spot with super fresh food. It is the spot to go when you have family in town or just want a fancy brunch feel with your friends. As basic as it sounds, I recommend the avocado toast with an egg on it - it will not disappoint!

Comeback Coffee: This could easily also be one of my favorite coffee stops as well, but the breakfast cannot be beat. I would for sure recommend the overnight oats if stopping in for breakfast. Be sure to check out their patio!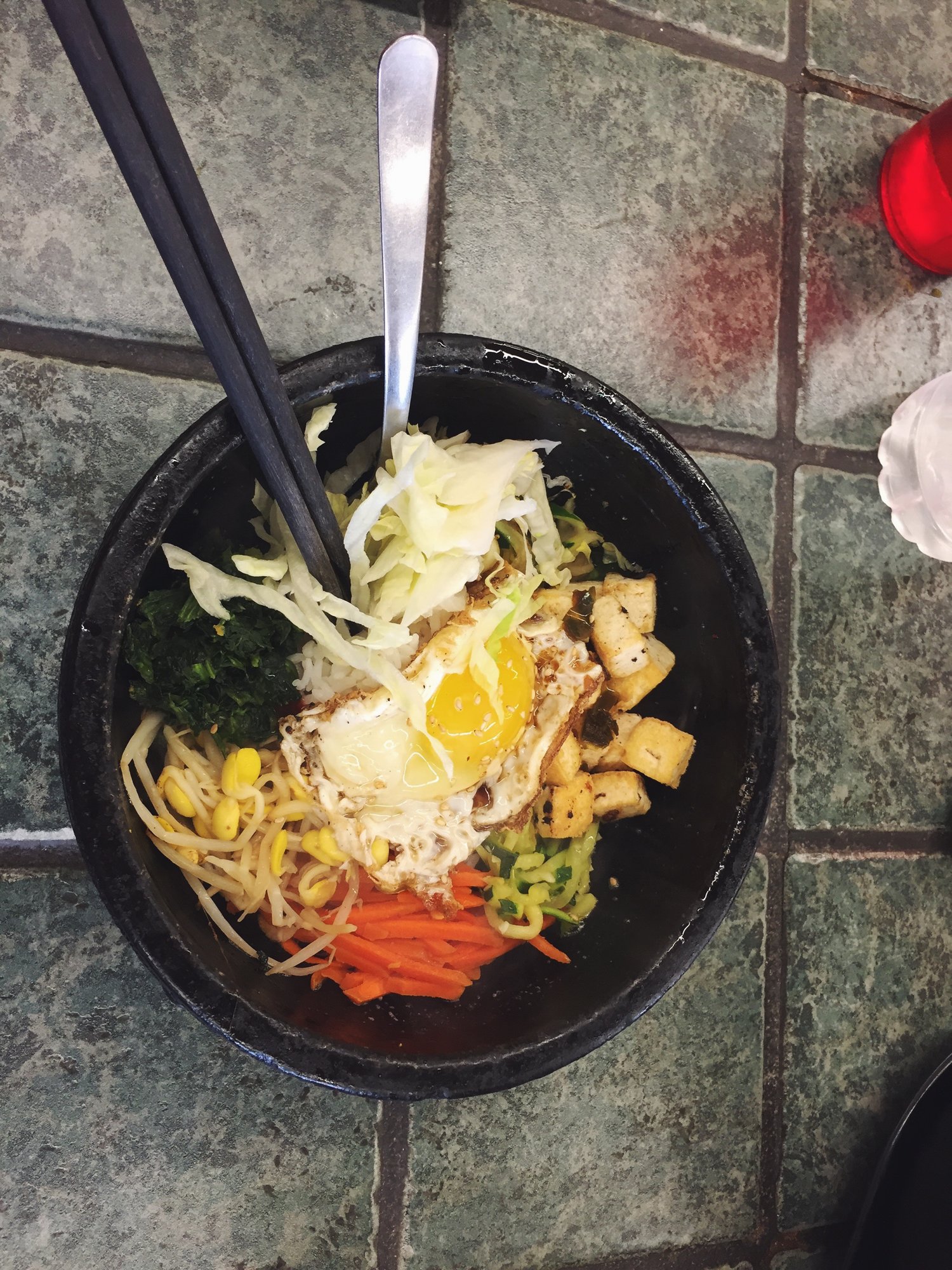 Lunch
Kwik Chek: Although the atmosphere here is super casual, the food is exceptional. The Bibimbap is 10/10 and can be made with beef, chicken, or tofu. The hummus and pita is also delicious and flavorful if you're wanting a smaller portion of food (both menu items pictured above).

City Silo Table + Pantry: The best vegan, vegetarian, and generally healthy options in Memphis. After having worked here for two years, I can definitely vouch for the fact that everything is super fresh and you get your money's worth with the food items. My favorite foods to get are the buffalo tempeh bowl, the kale caesar salad (with a black bean patty added to it), the sunshine breakfast burrito (with avocado spread added), and the roasted sweet potato fries (the 'red rooster roast'). For drinks (which are priced similarly to The Juice Bar), my favorites are the Jammin smoothie, the matcha and turmeric lattes, and the mint- pineapple kombucha. I'd suggest going around 1:30-2pm on the weekdays and around 11am on Saturdays to beat the crowds!

The Beauty Shop: This place is such a fun spot for a lunch date! The atmosphere is adorable and the lunch prices are reasonable with my total typically being around $10 - way cheaper than their dinner and brunch prices. I would definitely suggest getting the salmon gravlax sandwich.

Abyssinia: A fantastic Ethiopian buffet hidden right off of Poplar, only about 5 minutes from Rhodes. This place is incredible and has options for vegetarians, vegans, and meat-lovers alike. For just $10, you can get all the food you want plus some of their delicious spiced tea. Couldn't recommend more.

Today and Always (Crosstown Arts Cafe): This restaurant has some of the most creative vegan options I've seen in Memphis. Each day, they create fantastic vegan specials to accompany their already amazing core menu. I love the tempeh green curry bowl.
Dinner
Belly Acres: Although this place is known for its burgers and shakes, the veggie burgers are pretty killer, too. I'd recommend the black eyed pea burger and the lentil and onion burger.

Maciel's Taco Shop: My favorite new restaurant, hands down. With two locations and a third one on its way, I am obviously not alone on this opinion. Has a cool atmosphere and awesome service. Try the mushroom and poblano taco!

Hog & Hominy: Amazingly creative menu and cute space. I would definitely recommend getting the mushroom pizza or puff ball (a flat bread with a ricotta, beet, kale, apple, and pistachio filling). The perfect place to go for a celebration or special occasion!

Casablanca: One of my favorite restaurants ever. Now with three locations in all areas of Memphis, it's become a local favorite. The tea is the best and for food would definitely recommend the falafel and hummus as well as the tabouli salad. If dining with a few other people, I'd recommend getting the Sultan Mezza Combo (with tabouli, grape leaves, hummus, baba ganoush, falafel, and pita).

Sakura: The "best sushi" debate in Memphis is pretty heated but I don't know how it could get better than Sakura! A little on the pricier side but worth it for a special occasion. The Big Katuna roll is fantastic.

Global Cafe: A seriously amazing place. Run by refugees from 3 different countries, this spot is authentic, reasonably priced, and overall amazing. I love their falafel and veggie dumplings. It is also located in Crosstown Concourse making for the perfect destination!
Sweets
Muddy's: A cute hangout spot with vegan peanut butter bars (available at both locations) that are seriously addictive. The Grindhouse location also has a full coffee menu, making it a great study spot!

La Michoacana: A hole-in-the-wall spot that's become a Memphian favorite. Tasty ice cream and popsicles.

Mempops: Delicious popsicles all made from locally sourced ingredients. I'd recommend the roasted peach pop!

17Bershire: A beautiful macaroon shop located in Overton square. The wedding cake macaroon is what dreams are made of. I've worked here for a couple of months now, and can vouch that the London Fog drink is a must.
Coffee Shops
Avenue Coffee: Open late and perfect for late night study sessions. I'd recommend getting a pot of tea!

The Hub: My favorite coffee out of any Memphis coffee shop. The signature drinks are delicious and the seasonal drinks are always so creative. Definitely try the Spanish latte while you're there.

The Belltower Artisans: Cool space with a pottery studio inside. A great place for a meeting or for chilling out on their comfy couches. Super creative seasonal specials as well!

Ugly Mug: The sweetest staff and the best iced chai. Very small place but still has some tables and chairs for chatting or studying.

Society Cafe + Skatepark: A cool new coffee shop and skatepark open until 11pm every weekday. Has the best vibe and assortment of baked goods. I would recommend the dirty chai.

City & State: Ever since attending Rhodes, this place has been such a fun escape from campus. The coffee is on the pricier side, but the quality and creativity of the drinks is top notch.
My Favorite Things to Do
Crosstown: During high school this place was barely on my radar but now I find myself going at least once a week. It is especially a great spot to hang when the weather is chilly. The restaurants are amazing and people watching is always so fun, especially during the workday. The 7th floor also makes an excellent study spot.

Trolley Nights: On the last Friday of every month, South Main keeps all of the shop and restaurant doors open late to encourage people to come and hang. This night of the month is always so popping and fun to go to. Although sometimes the prices for food can be a little high, the 409 South Main indoor market is a fun place to look around, especially because lots of pop-up shops are set up for the event. If ever unsure of what to do on a Friday night, stopping by Trolley night will not disappoint.

Biking: The Greenline and Big River Crossing are the best places for biking around when the weather is nice.

Picnic by the Mississippi River: The best view of the sunset as it falls over the M bridge. Go with friends and make a night out of it!

Go to one of the Farmers Markets: The Memphis Farmers Market is a fantastic way to spend a Saturday morning. Dozens of local vendors (Jones' Orchard and Girls Inc. to name a few) with lots of fresh produce and specialty goods.

Drive in Movie at Summer Quartet Drive In: Bring some bug spray, lawn chairs, and possibly a portable radio (if your car radio is quiet or your battery is unreliable). It makes for a fun night with friends! (Summers only!)

Going for a run or walk: Overton Park, Shelby Farms Hyde Park, and the Greenline are my favorite running spots with paved trails.

Civil Rights Museum: If you live in Memphis and still have not been, go. This museum is so powerful.

Art Museums: The Dixon and the Brooks museums often have incredible temporary exhibits. Perfect spots for a rainy day.

Farmer's Market: I absolutely adore the Downtown Farmer's Market. So many wonderful food and connections to make with vendors all around the city.
Of course, any other Memphian may come up with a totally different list of the "best spots" but these are some of my personal favorites! I hope that this guide helps you see Memphis through a new lens - whether you are a local or simply visiting. Enjoy!